Leather corals are another very hardly coral making them a very good choice for people that are new to the hobby.  They are readily available throughout the hobby and they can also grow to become a great looking addition to any set-up if kept in the correct conditions.  These corals are very popular with both new hobbyist starting with corals for the first time, and advanced hobbyist as well making them among the most popular corals in the hobby today.
Generally speaking, leather corals are a soft skinned coral with visible polyps all over their skin.  The do not have a calcified skeleton structure making them a little more tolerant of some water parameters like calcium. There are hundreds of different species of leather corals. Properly identify the exact species can sometime be very difficult as their shape can altered due to environmental factors such as temperature, salinity, light intensity and water movement to name a few.  A leather can look one way in a aquarium and then (over time) look very different when placed in another tank.

Some General Guidelines for Leather Coral Care
Just as with any coral,  you water parameters should be in line and stable for your corals to thrive and grow.
Lighting: Moderate, although leathers are tolerant of higher a lower levels of lighting as well
Flow: Moderate flow, but most are tolerant of higher lighting levels.
Temp – 77 to 78F
Salinity – 1.025 to 1.027
Nitrates -less than 5 ppm is best for long term health, however they tolerate much higher levels for a period of time
Phosphates – less than 0.05ppm
Alkalinity (dKH), Calcium, Magnesium, and PH, all should be balance with each other as described in the below link:
https://reefaquarium.com/2012/ph-in-marine-aquariums/
As leathers do not have a calcified skeleton structure, they can be more tolerant of swings in the alkalinity, calcium, and magnesium when compared to other corals.  However, they will not be very tolerations to swings in PH, Temp, or salinity which is no different than any other coral or fish.
Most leathers have some very effective defensive abilities.  Leathers commonly have the ability to sting other corals and some fish along with emitting chemicals to ward off other corals from entering their space.   For this reason it is very important to understand how big your leather coral can get and plan for enough space between your leather coral and other corals.  Just leaving a few inches may not always be enough as some leathers can get surprisingly large. It would also be a good idea to have some carbon in your set-up in case your leather will start to emit defensive chemicals.  This is one coral that will be the least likely to be picked on by most fish in the hobby.
As these corals contain zooxanthellae inside their body, they will be able to get most of their required nutrients through your tank lighting.  This is why it is important to have at least moderate levels of lighting in your tank.  Leathers can also get nutrients from the water.  They can collect microplankton and zooplankton with their polyps to obtain the nutrition they require.  They would certainly benefit from the occasional spot feeding. You can compensate for lower lighting with manually feeding a leather to sustain for short periods of time.  Most leathers will do best when they get their needed nutrition from both the water and your tank lighting
Just as with most corals, leather do not like to be handled and/or moved a lot.  This will cause them stress and retract when handled and it can take them a few days to fully extend.  At times when are disturb, they will develop what looks like a light colored wax coating on them.  This can happen after being handled, or if they are being bothered by algae starting to grow on them or pests such as flat worms.  They will later shed this coating to rid themselves of what every was bothering them which can also be a normal process for a leather coral provided it only happens occasionally.  Frequent build up and shading of this coating can be a indication the water parameters/water quality may be off.
All of the hardy, easy to care for leathers can fragged with a very high success rate.
One thing you need  watch for is artificially died corals.  This is the unethical practice of injecting die into the leather coral in order to make it appear more colorful and sell it at a higher cost.  Leather corals are among the easier corals to die and one of the hardest corals for someone new to the hobby to identify as a potentially died coral.  The reason to avoid buy these corals is for two reasons, 1) the coral will almost always die within a few weeks, and, 2) not supporting the practice through not purchasing a died coral will help to stop the practice of dying corals.  The most common sign of a potentially died coral is it's bright coloring.  In most cases this will be bright enough to look almost un-natural as well as almost neon.  The best approach to help you identify a potentially died coral is to research the coral before purchasing it so you will have a good idea of how it should look.  The below link can help you identify died corals
http://www.aquaticcommunity.com/aquariumforum/showthread.php?t=87011
Some Suggested Easier Leather Corals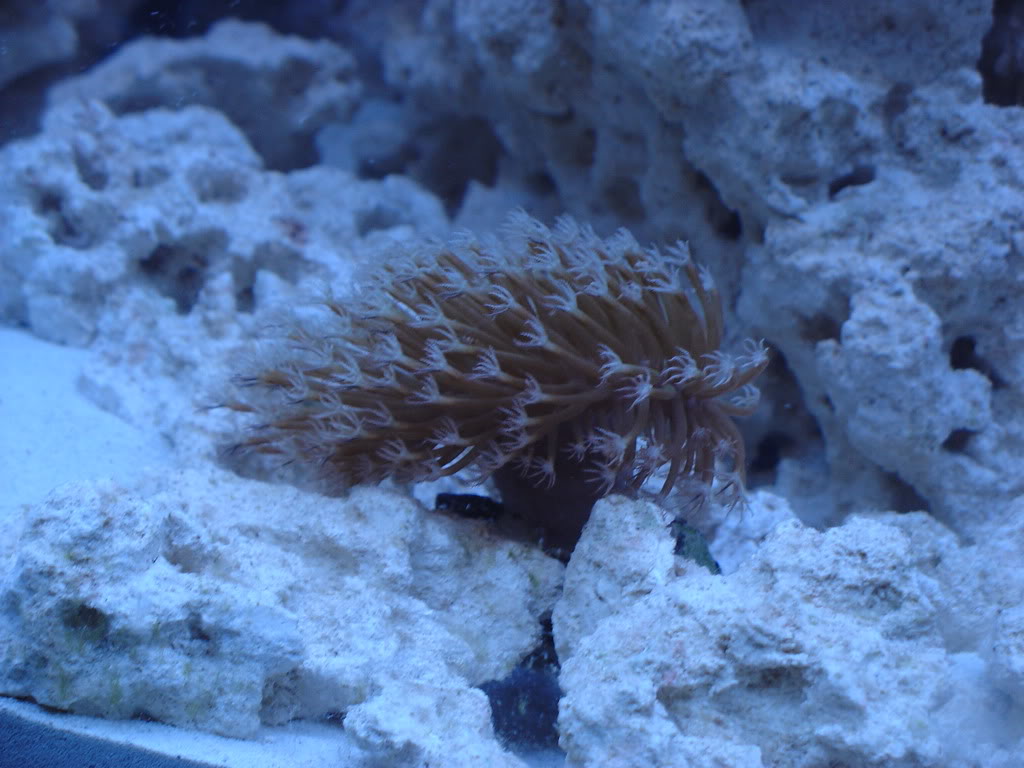 Long Pollyp Leather (Sarcophyton)
This is among the more hardier leather corals. They are often called long polyp toadstool leathers due the appearance of this coral.  There will be a short base with a head structure on top that will make it look a lot like a mushroom. This is a brow colored coral which has longer polyps that can range in length of up to a inch.  The polyps can be gold or brown in color.  The head of this coral can get as big as 5" so you should leave at least 5 " of space all around this coral to help prevent any defensive response from this coral. My long polyp leather has been doing good and grown a far amount in the year that I have had it.  It was one of my first corals.  I have included a picture above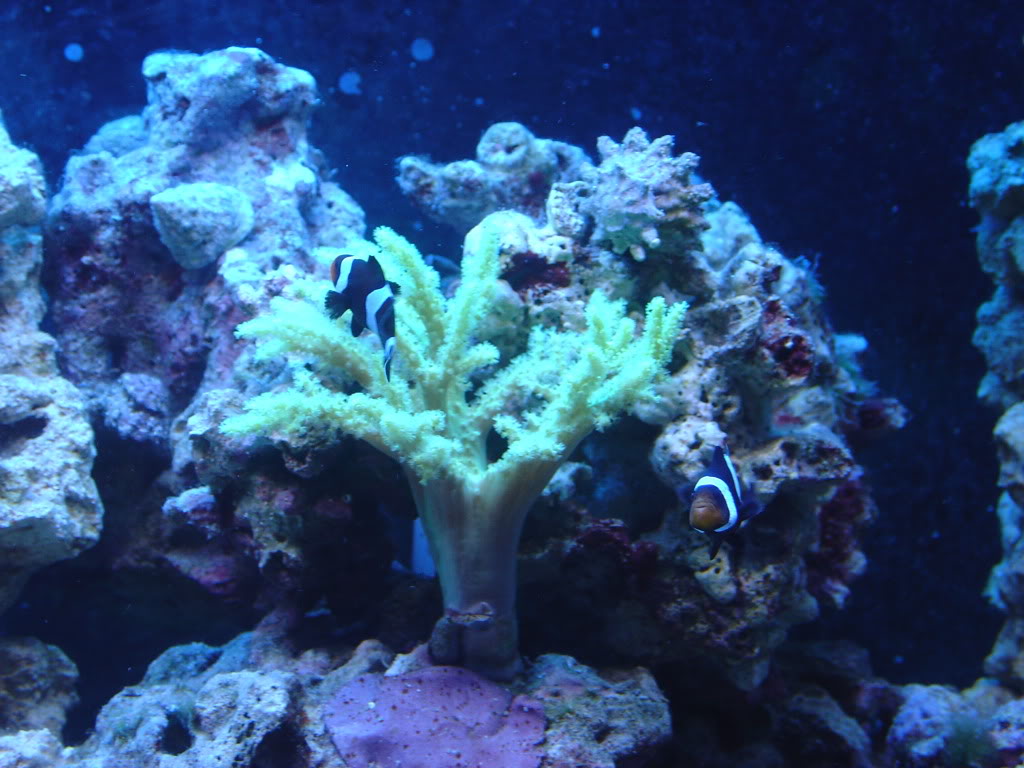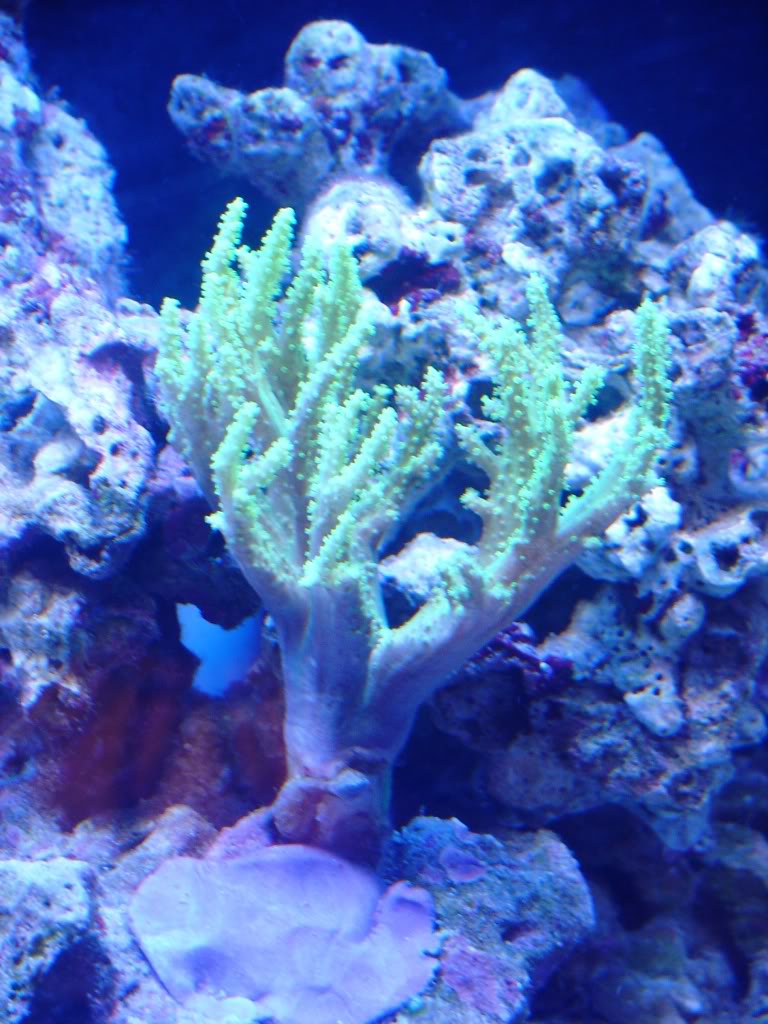 Green Palua Neptha (nepthea SP)
This is another hardy coral.  They will look like a little tree with fat branches and are green in color.  The coloring can range from bright almost neon green to a darker green. The branches of this coral will be covered in short polyps a little lighter in color than the base which, at times, can make it look almost "furry".  This coral should ideally get around 10 inches of tank space for its long term growth. I have had one of these for almost a year now.  Before getting a anemone for this tank, my clown fish hosted in it for about 3 to 4 months.  Normally, clown fish hosting in corals can add a lot of stress to the corals but this seemed to have no effect at all on the leather.  Mine is a little higher up in the tank and is a really nice light green almost neon color.  This one was also among my first corals that I have kept. I have include a few pics (above) of mine.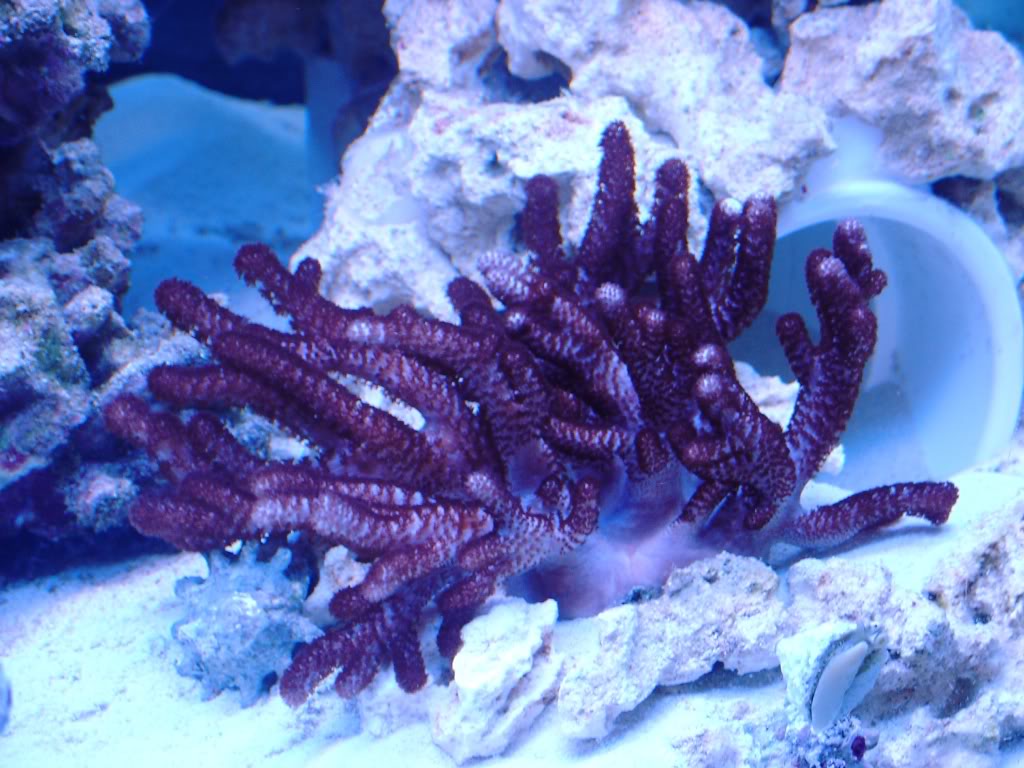 Finger Leather. (Sinularia SP)
This is another very tough leather coral.  This is among the most common leathers found in the hobby.  They can have a wide range in color from browns, to reds, purple, and almost blue like colors.  The polyps will be a little different  in color than the base. These leathers can get up to 8 inches in height and around 12 inch wide along the base.  This coral will need anywhere from 10 to 14 inches of space in a aquarium. Due to their size and coloring, many hobbyist have used them as a center pc coral.   I got a purple/pink finger leather coral close to a year ago now and have found it to be one of the fastest growing leather corals that I have kept.  I had fragged it once and it recovered very quickly.  Above is a pic of my finger leather.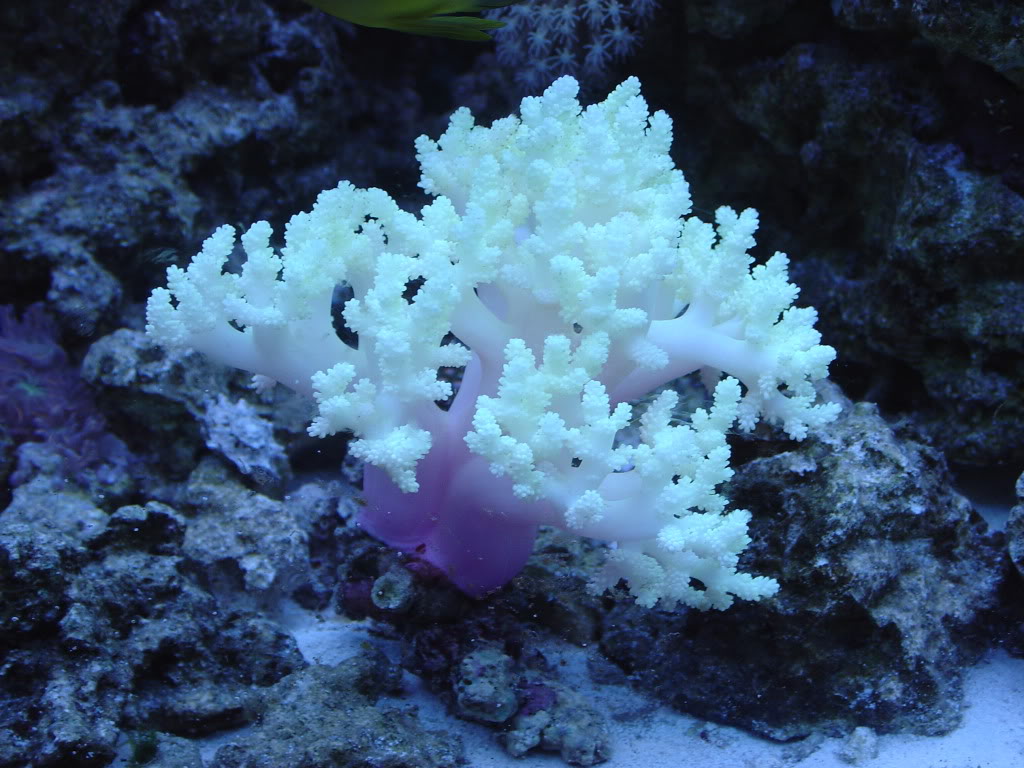 Colt Coral (Cladiella)
The colt coral is also among the easiest corals to take care of.  They are also commonly referred to as cauliflower corals.  It can look similar to a finger coral, but the shape of the polyps and the tips of the fingers make it look more like cauliflower.  They will more commonly range in color from a brownish red to a light pink with the polyps a little brighter color than the base.  Colt corals do best with a little more than moderate flow.  They don't get quite as big as a finger leather but will still need 10 to 12 inches of space in your tank based on its size potential and growth rates.  The above pic is one colt coral that I have kept.  The picture was take shortly after I added him to my tank so his polyps are still not fully extended. I really did like the pink color.  It was another very easy to care for coral.
Toadstool leather (Sarcophyton SP)
Also called the: mushroom leather, cup leather coral, and umbrella leather coral, this is among the toughest leather corals that you can get. There will be a short base with a head structure on top that will make it look a lot like a mushroom or a toadstool. They commonly range in color from brown to yellow and less commonly in shades of green.  The polyps will range in color from white to gold and less commonly in green.   This coral should get around 6 to 10 inches of space in your tank.  I've never actually kept one of these leathers so I don't have a picture to show you.