Zoanthid and Palythoa are both colonial type corals, meaning they form a colony of individual polyps all living together.  They are commonly referred to as zoas and palys. As they are very similar corals, I have combined them into one article. Zoas and Palys are both very hardy soft coral placing them amount the easier to keep corals and making them a excellent choice as corals for beginners.  These corals can come in some spectacular colors and color combinations, among the most amazing colors to be found in any soft coral.  For these reasons, they are kept by  advanced and new hobbyist alike.   I have also added star polyp corals and glove polyp corals into this article as they are also colonial corals with very similar requirements and hardiness when compared to zoas and palys. The below will outline the requirements to keep these corals healthy and thriving in your tank.

Some General Guidelines for Zoas and Paly Coral Care
While they can tolerate a wider range of water parameters, this will not remove your responsibility to provide the best water conditions that you can as detailed below
Salinity: 1.025 to 1.027
Temp.: 77 to 79 degrees F.
Nitrates: below 5 ppm  is best for long term health, however they tolerate much higher levels for a period of time.
Phosphates: below 0.05 ppm
Water Flow:  Between moderate to low flow but not directed at the coral
Lighting: Moderate to Low.  Some can handle higher levels of lighting if properly acclimated
Alkalinity (dKH), Calcium, Magnesium, and pH, all should be balance with each other as described in the below link:
https://reefaquarium.com/2012/ph-in-marine-aquariums/
As neither zoa or palys have a calcified skeleton structures, they can be more tolerant of swings in the alkalinity, calcium, and magnesium when compared to other corals.  However, they will not be very tolerant to swings in PH, Temp, or salinity which is no different than any other coral or fish.
These are among the more tolerant corals to different  levels of lighting.  These corals contain zooxanthellae inside their body, they will be able to get most of their required nutrients through your tank lighting.  This is why it is important to have the correct levels of lighting in your tank and to watch for signs that your lighting levels may not be correct.  These corals  can also get nutrients from the water in the form of  microplankton and zooplankton and will benefit from the occasional spot feeding.  They  will do best when they get their needed nutrition from both the water and your tank lighting.  They are not tolerant of higher flow rates.  If it looks like the heads are not fully opening, try placing them in a area with lower flow.
Most corals have a natural defense mechanisms to protect themselves. Zoas and Palys have are the least aggressive when it comes to defensive abilities.  Often, the opposite can be said about them.  They can quite frequently become damaged and even start losing heads when they fall victim  to another coral's sting or exposed to those toxins.  In addition, the protective slime like coating that is on the zoas and palys are a favorite delicacy among the "coral nipping" fish.  The corals typically dies when a fish removes the outer slim coating from the coral.
Some types of zoas and palys can grow so fast that I would even state they are a invasive coral that can take you're your tank it your let them. Zoas and palys do best when attached to the rocks.  There should a adequate space place between them and other corals depending on the other coral's requirements.  The slime coating on some palys can also be toxic to humans so please, handle these corals with care.
Some Examples of Zoas and Palys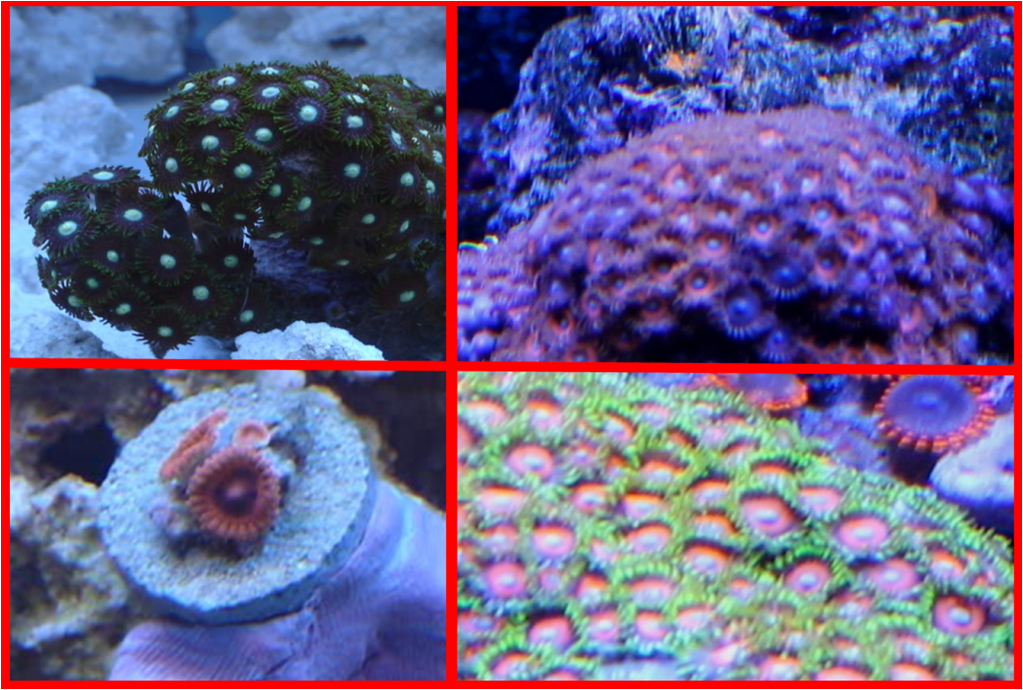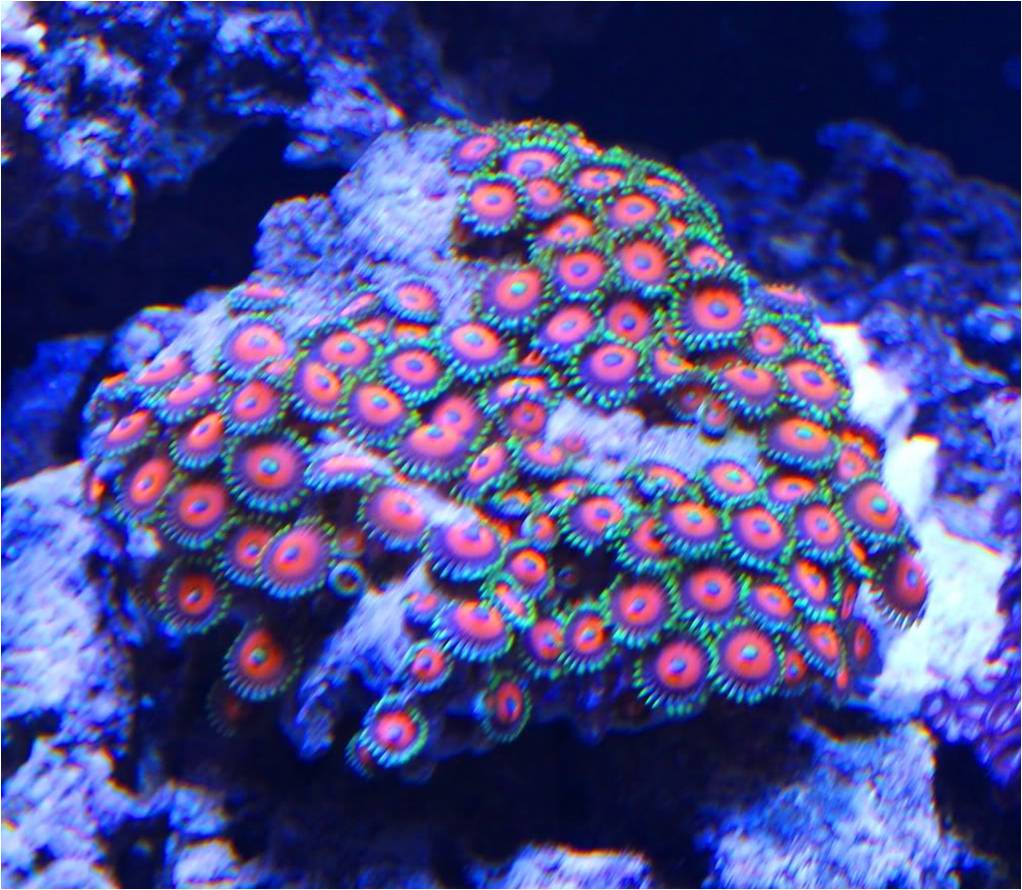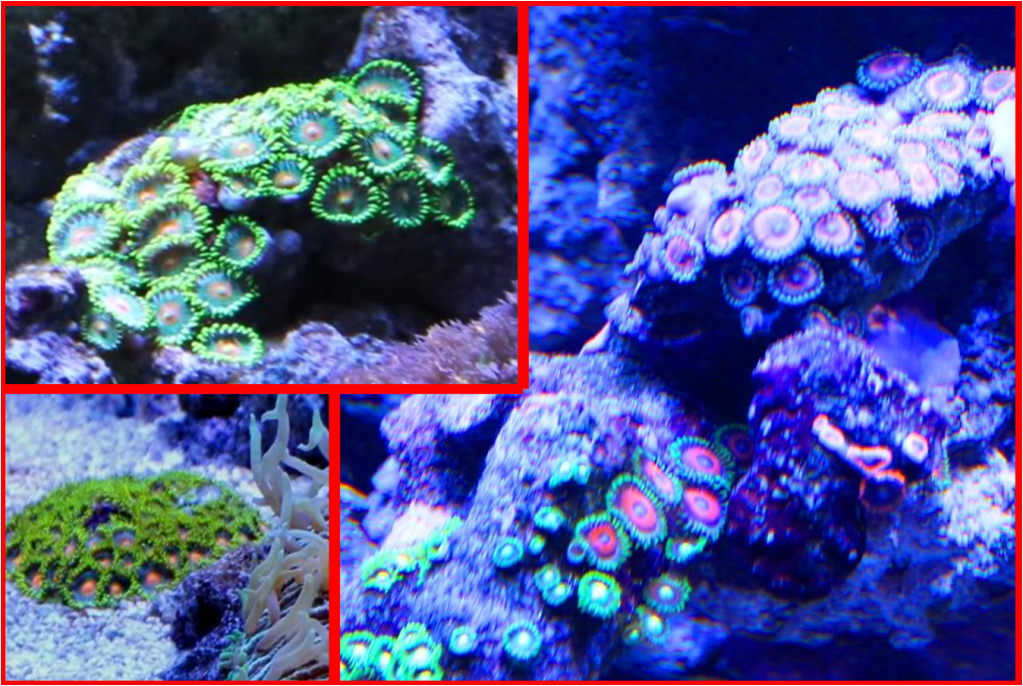 Zoanthideas
These corals come in a very wide range of colors and color combinations.  Some zoas can have up to three different colors on them: one around the outer edge of the head, one on the head, and a third in the center of the head.  Zoas stay fairly small in size (less than 1 inch) but the colony can easily grow and expand.  You have to be very careful with the compatibility of reef safe fish and zoas in the same tank.  These will typically be the first corals to suffer from a coral nipping fish.  The pictures above are of a few different zoas in my tanks.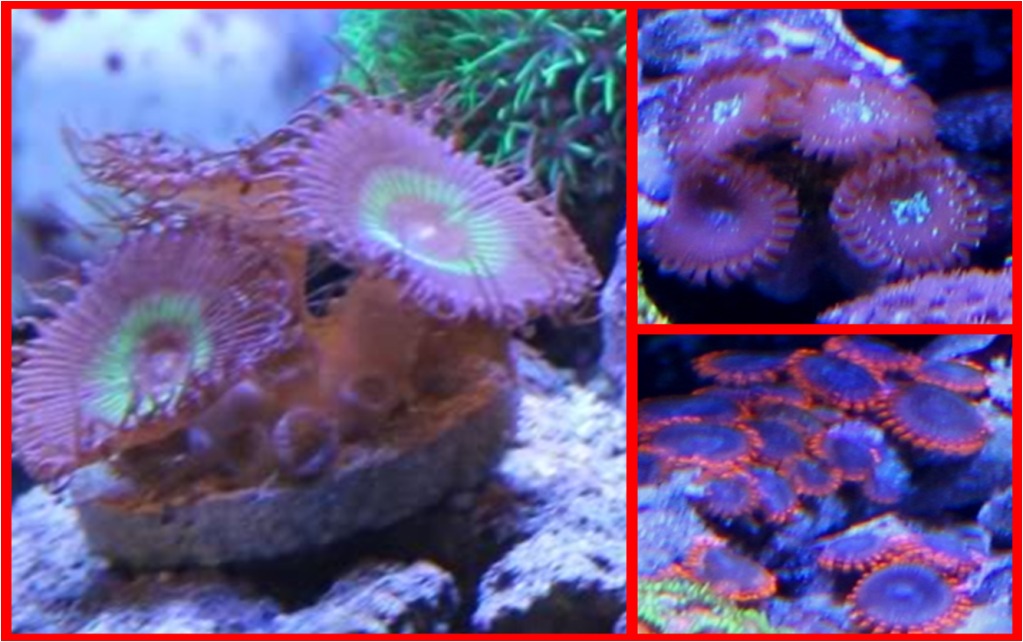 Palythoas
As with zoas, palys can come in a wide range of colors and color combinations.  While the heads can range in size from ½ to 2 inches, the colony can grow at a fairly fast pace.  The slime coating on some palys are among the most toxic to humans so please, handle these corals with extra care.  The above pictures are of a few palys that I have in my tanks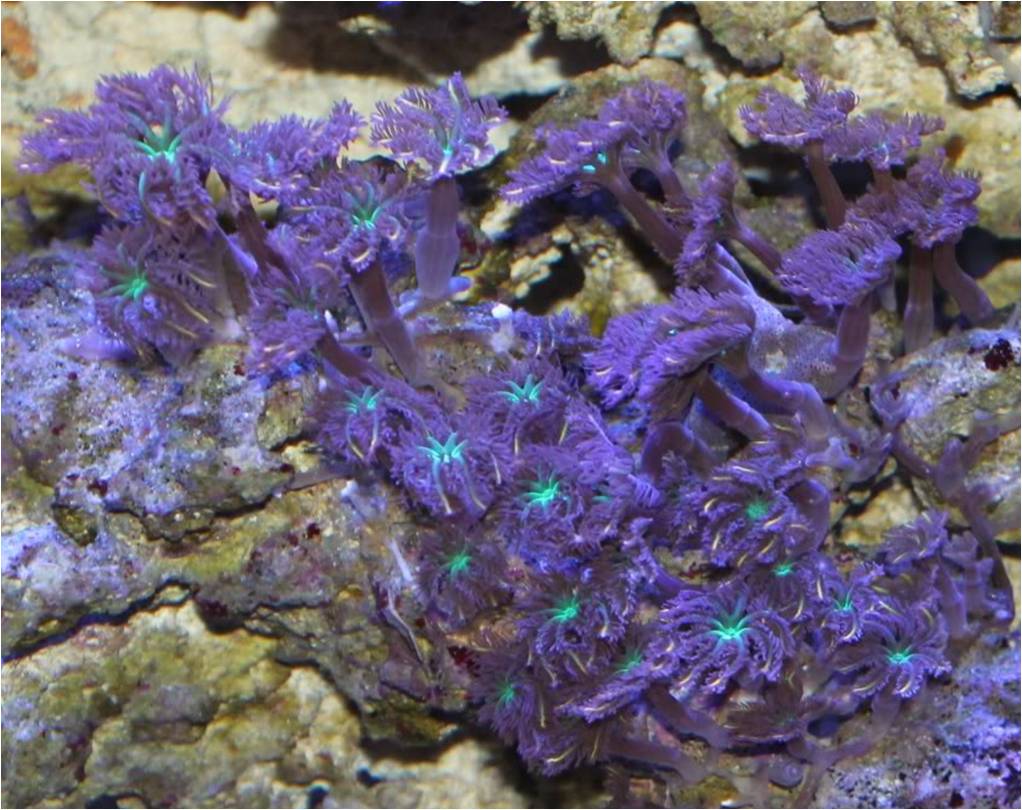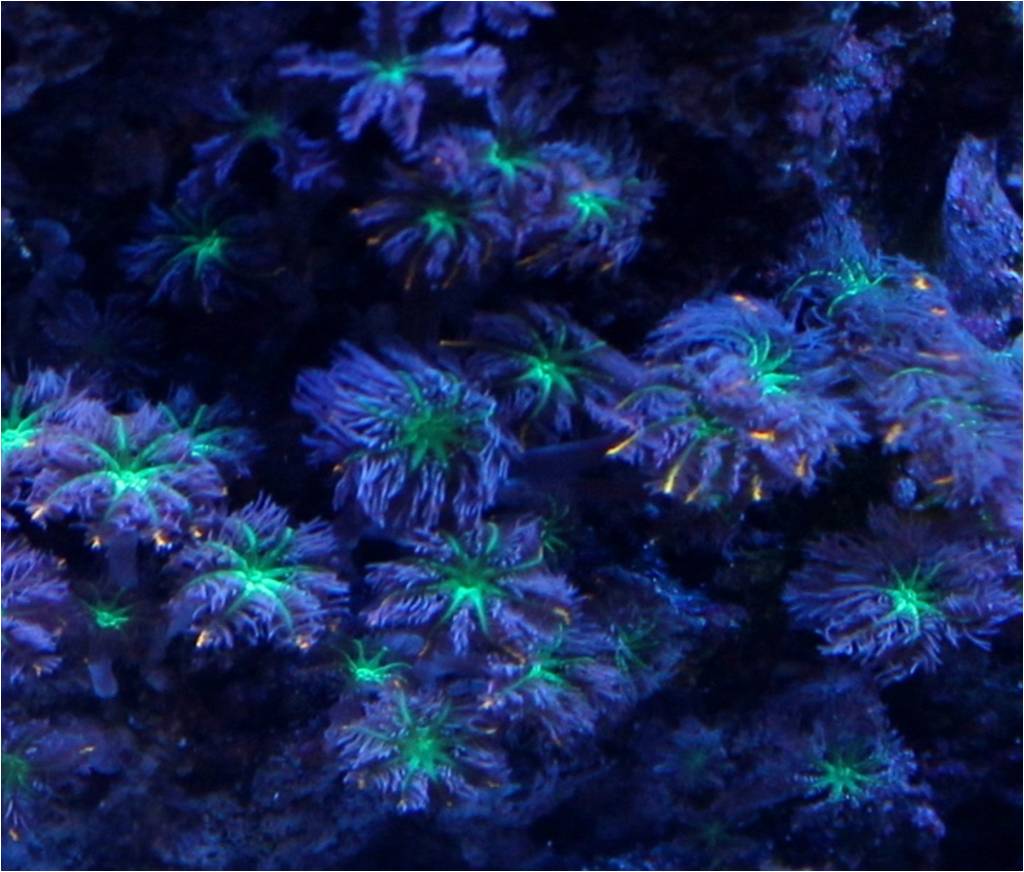 Clove Polyps (Clavularia sp)
While these are not a zoa or paly, I have included them here as they have the same requirements as zoas and palys,  and can often mistakenly assumed to be a type of paly.  They only get to about 2 to 3 inches in height and have a head size of about ½ inch.  The heads can have a bright almost neon coloring to them while the tentacles branching off the heads can have a colored line running down the center of them.  The heads can retract into the base of the coral making it look like a purple lumpy spot on your rocks. These are among the fastest growing corals that I have kept.  When kept in the correct conditions, these corals will take over your whole tank if you allow them to grow uncontrolled.  The above picture is of the clove polyps that I have in my tanks.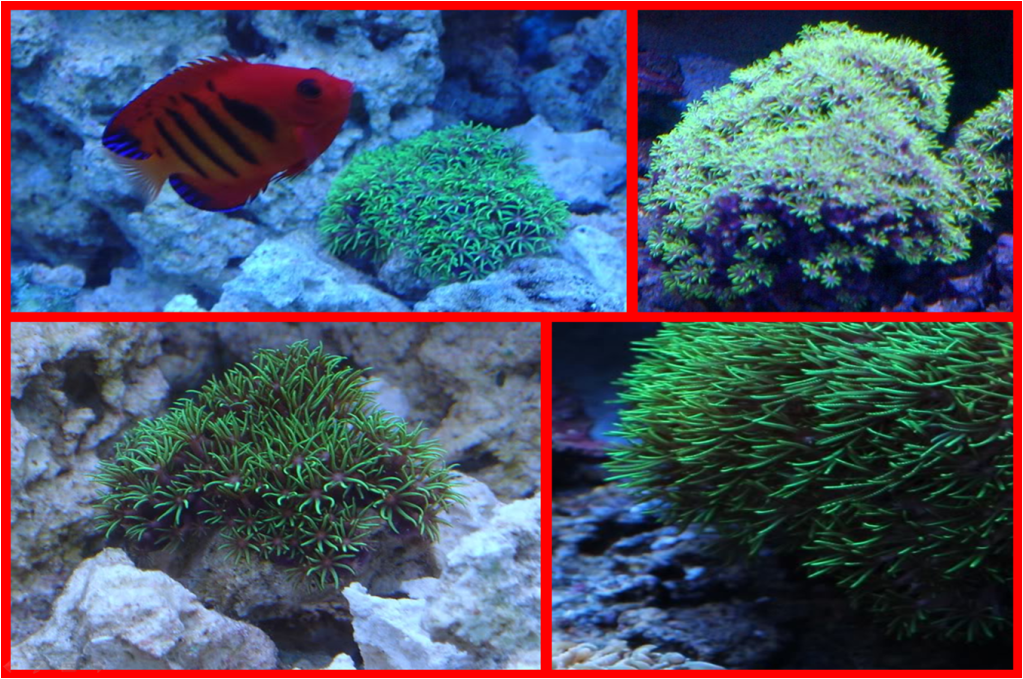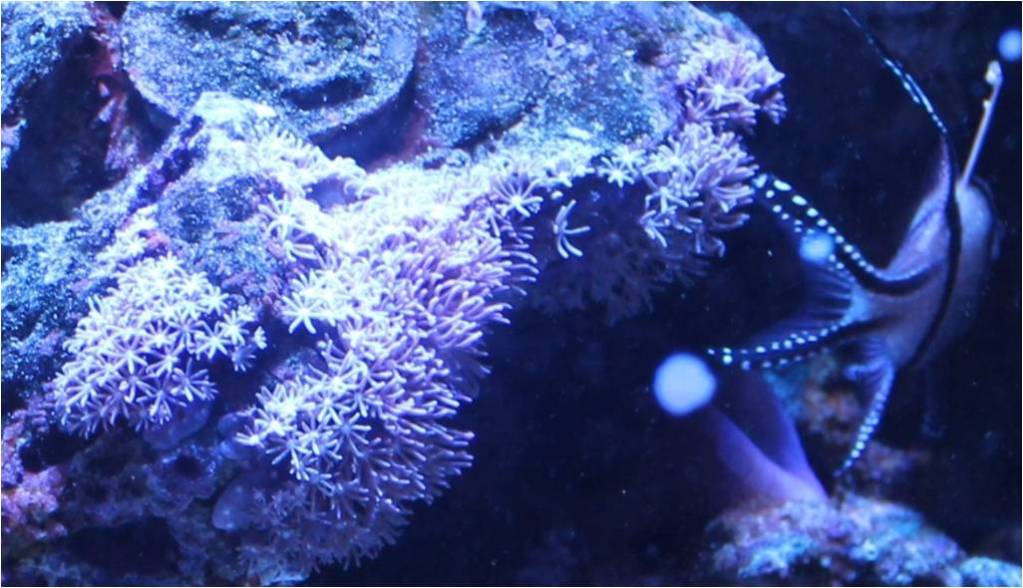 Star Polyps
Once again, these are not a zoa or paly, I have included them here as they have the same requirements as a paly and can sometimes be mistakenly assumed to be a type of paly.  These corals can grow on your rocks as well as on the sand and on the glass of your aquarium.  They grow almost like a carpet of small polyps that only have a height of about ½ to 1 inch and a head size of about ¼ to ½ inch.  The heads of these corals can completely retract into the base making it look like a think purple coating on your rocks. Green is the most common color to find this coral in.   I have read they can be found in other colors, but I have only seen them in green and pink.  The above are pics of green star polyps and pink star polyps in my tanks