In my experience, this is one of the more important factors in setting up a marine aquarium.  Having good flow and water movement is key to having a great and healthy marine aquarium.  Not having enough flow can lead to a variety of potential problems.  I will explain why I have this opinion along with showing a few examples.




The benefits of having good water movement and flow include:
1)      Increased oxygen levels through improved water movement at the surface
2)      Allow food to be carried to the tank inhabitants and corals
3)      Allow wastes to be carried away from the tank inhabitants and corals
4)      Help with the photosynthesis and calcification processes of corals
5)      Help prevent the build-up of detritus
6)      Helps to create a more natural environment for your tank inhabitants.
7)      Can help to prevent some types of marine algae from getting a strong foot hold in your aquarium.
Some of the problems you could have if you have too low water movement or too low flow
1)      Excessive nitrates and phosphates from allowing detritus to build up and remain in dead spots.
2)      Good conditions for pathogenic bacteria to grow (the bacteria that causes infections in fish and corals).
3)      Slow growth in corals
4)      Ineffective or reduced biological filtration from your live rock
5)      Ineffective or reduced filtration from your skimmer (or other forms of filtration you are using).
What's the Difference in Water Movement and Water Flow ?
Let me first clear up the terminology that I am using:
Water Flow:  The most common type of water flow is the laminar flow of water that is moving in one direction almost in a straight line, like a current in the ocean.   In addition to laminar flow, you can have turbulent flow which happens when two currents are moving towards each other head-on, or when a current meets a solid object creating some water movement in many different directions at once.  Turbulent flow created by using several power heads is better than laminar flow in most marine aquariums.  Laminar flow is better suited to recreate environments that are typically found in the ocean at depths of more than 40 feet.  Turbulent flow is better suited to recreate environments that are found in the ocean at depths of less than 40 feet.  Turbulent flow will also change slightly as it is more random by nature.
Water Movement:  This is the back and forth surge like movement in the water that is created when a wave passes over a coral reef.  This type of flow is also best to use when creating the typical conditions found at depths in the ocean of less than 40 feet. This is the best type of flow to have in a reef tank as coral reefs will have waves passing over them almost all the time.  Most corals do best when they receive turbulent water flow and water movement both.
How Much Flow and Movement  do I Need ?
This is one topic that has many, many, many different "rules of thumb".   Factors that you have to take into account are the types of fish and corals that you will be keeping and how you stack your live rock in your aquarium.  The total amount of flow is usually summarized by stating how many times per hour the total volume of water in the display tank is moved.  For example, if you have 1000 GPH of flow in a 100 gallon tank, you will have 10 times flow, or 10X.  Based on everything that I have read and tried in both of my current reef tanks, I would suggest using around 50X flow for a reef tank with SPS, and around 30X flow for non-SPS reef and FOWLR set-ups as your starting point and increasing it from there were you can.  I will share two examples of what I have done near the end of this article.
NOTE: You cannot use any rule of thumb if you are keeping any type of fish or coral that require a specific flow rate.  Seahorses for example require very low flow and will not survive in a tank with even moderate flow.
What can I use to Create Water Flow and Water Movement?
When it comes to creating laminar and turbulent flow, the most common approach is to use multiple powerheads inside the tank.  Other aspects of your set-up will also provide some flow to your tank which can include: return pumps from your sump, hang on back protein skimmers, hang-on back filters, or canister filters just to name 3 possibilities.
When it comes to using powerheads to create laminar and/or turbulent flow, I would strongly suggest using a minimum of 4 powerheads.  This will give you better overall flow through your aquarium and help you to reduce the dead spots in your tank.   Choose your powerheads based on: the amount of flow you will need, the angle you will need to place the power head at, and wither or not you are planning to use a controller.  The below pics are two of the more common powerheads that used in the hobby. I placed these in my QT tank which is currently being used to cure some rock.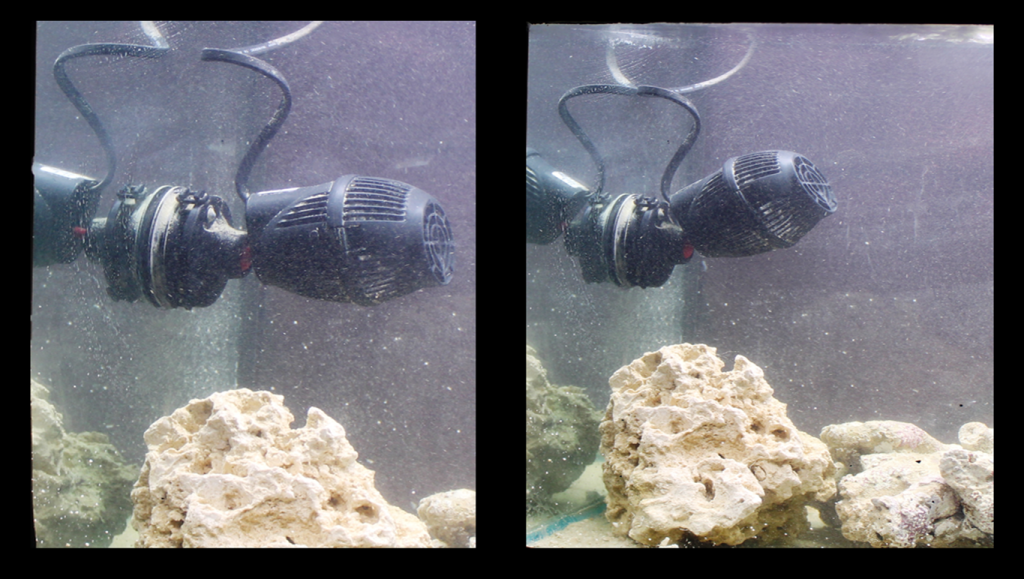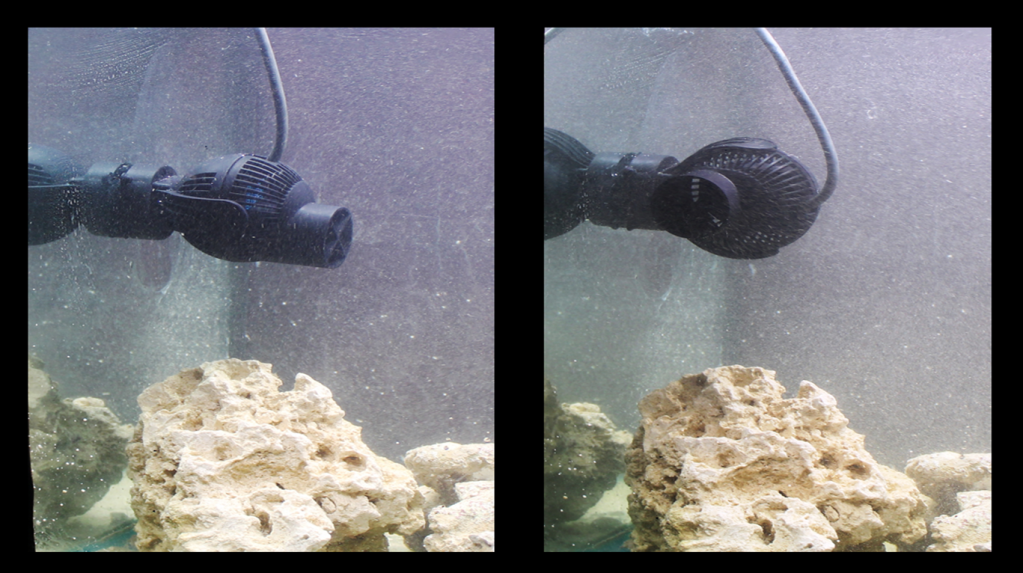 The best method that I have found to create good water movement is to use a wave box in combination with a controllable powerhead.   I have tried to create a strong wave using two powerheads with a controller, but I was not satisfied with the strength of the wave.  When using one powerhead in combination with a wave box and both controlled with the same controller, I noticed a great improvement in the strength of the wave through the whole tank.  Both powerheads and the wave box were rated at the same gph. A strong wave of water movement in your tank is a great way to prevent detritus from settling in your deadspots.
My Two Examples
In my 90 gallon reef tank I knew I wanted SPS corals which require both high lighting levels and high flow.  I also wanted to stack my live rock in taller columns rather than in any type of pile-like structure to maximize the biological filtration capacity of the rock.  This will also help with SPS placement allowing me to put them higher in the tank were they will enjoy the higher lighting levels that they need.  I placed four  1100 gph powerheads in the tank. Two are the front corners of the tank pointing towards each other and two at the back corners of the tank pointing to the same spot behind the rocks in the tank.  Combined with the 1000 gph from the return pump, this created 5,400 gph of total flow (1100 x 4 + 1000) which puts the overall flow at 60X.   The powerheads point at each other from opposite not only creates strong flow in the top half of the tank which is required for the SPS, but is also creates a very strong turbulent flow throughout the whole tank.  As I wanted to keep at least one carpet anemone (which like lower flow) in this tank, I did not add a lot of water movement to the set-up.  This left the lower have of the tank with moderate flows and random/turbulent flows .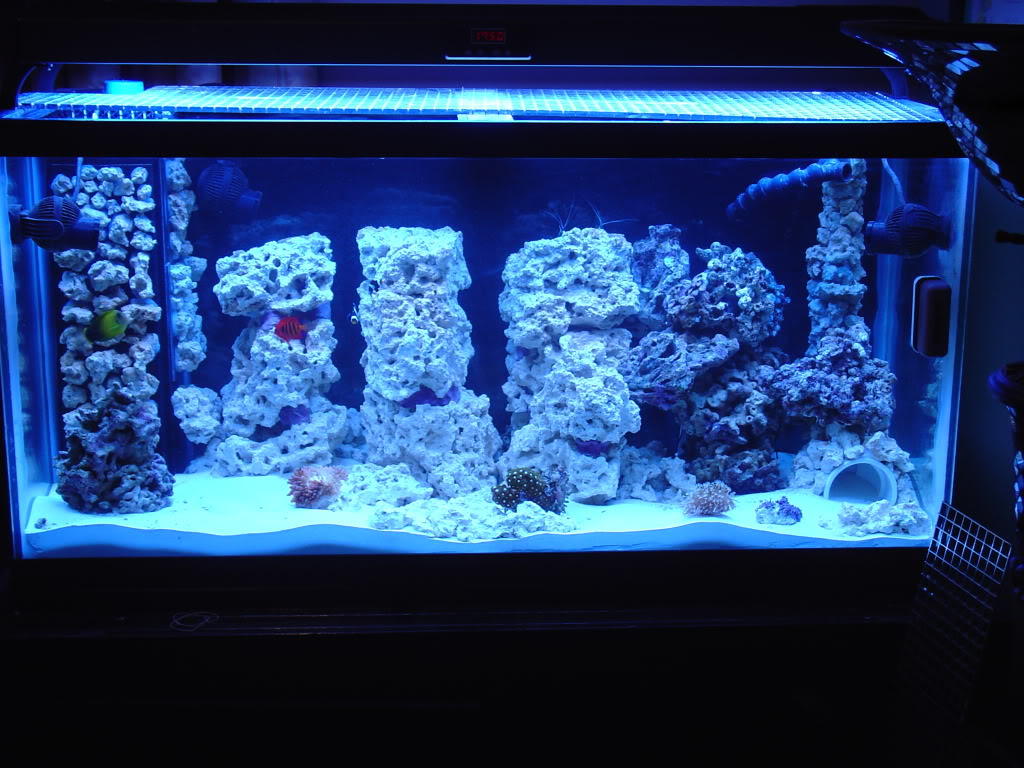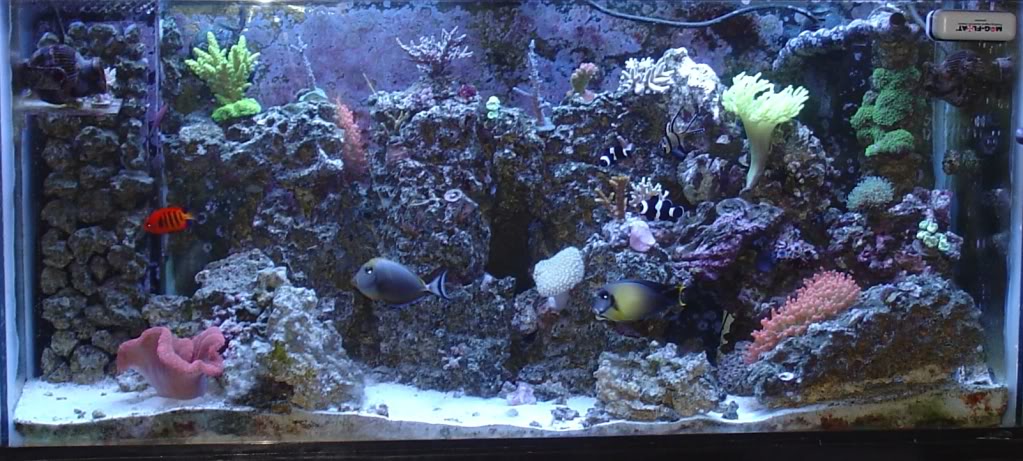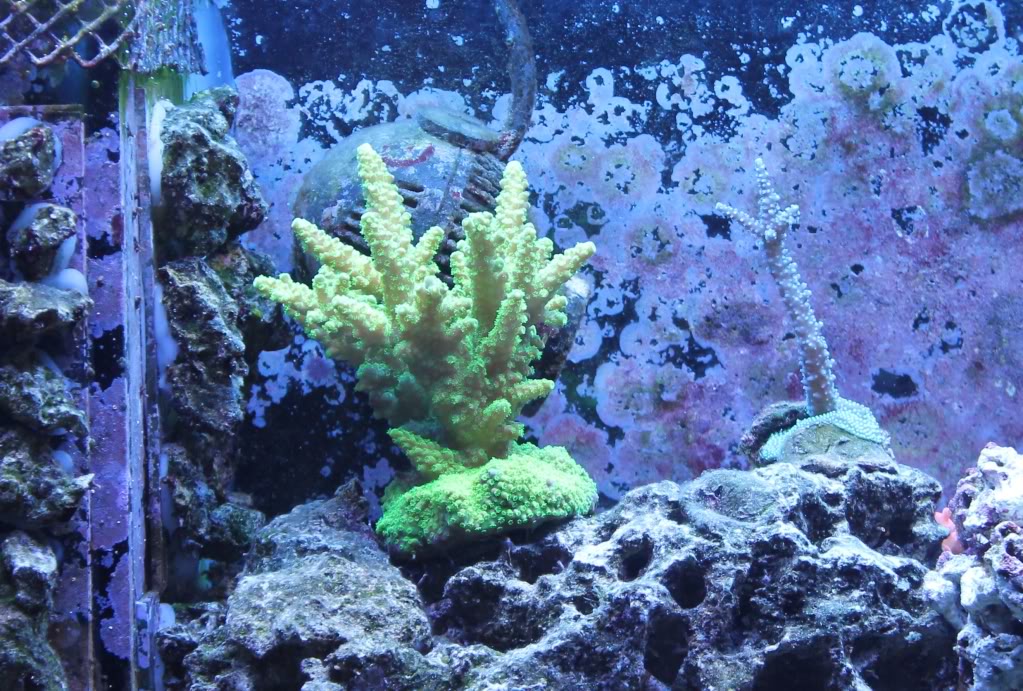 The below pic is a diagram I made to show the position of the powerheads so that it might give you a few ideas.  It is showing how it would look if you were looking down into the tank from the top.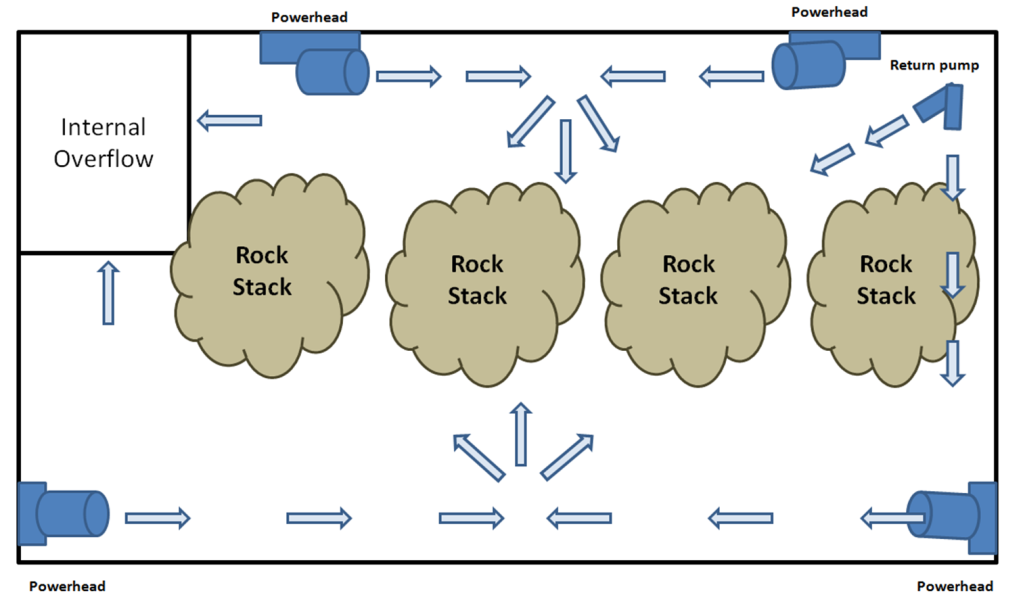 For my 120 gallon reef, I wanted mostly soft and LPS corals and lots of rock as well.  For this tank I added four powerheads placed in the same way as I did in my 90 gallon using two 1100 gph powerheads at the front corners and two 750 gph powerheads at the back corners.  When combined with my 1000 gph of flow from my return pump, that gave me 4700 gph of flow, or 39X flow.
In order to create an even more natural environment, I decided to add a wave box and a controllable powerhead with a combination controller.  This allows both the wave box and the powerhead to come on in alternating cycles creating a strong wave effect in the tank.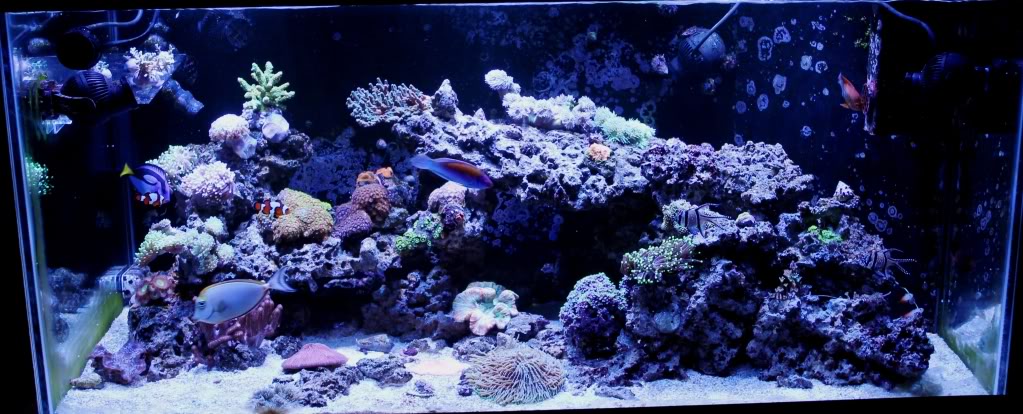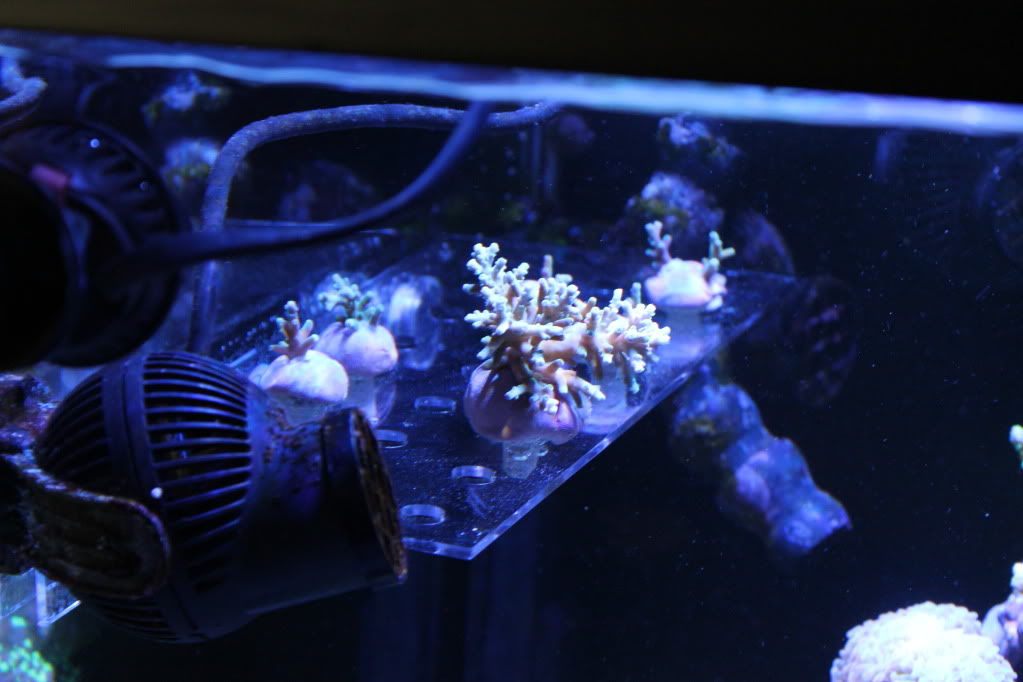 The below pic is a diagram I made to show the position of the powerheads so that it might give you a few ideas.  It is showing how it would look if you were looking down into the tank from the top
If you have any questions about this article, please feel free to start a thread in our forum using the below link.  If you are not already a member, please take the time to sign up and join.
http://www.aquaticcommunity.com/aquariumforum/newthread.php?do=newthread&f=62
References:
Advanced Beginnings: The Basics of Water Movement in the Reef Aquariums, by J. Warrick
http://www.advancedaquarist.com/2006/6/aafeature2