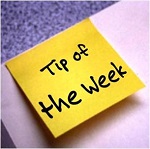 Tip of the Week #1
When I took survival training while I was in the army, we were always instructed to get enough firewood to last you through the night and to complete this task before sunset.Once you had what you thought was enough firewood, get three times more fire wood that what you have. I have found this same simple principle should be applied to planning and learning about your marine aquariums.Once you think you have read and researched enough, you could stand to research some more (me included).
I have found the best way to accomplish this is by reading books and articles published by credible and experienced hobbyists combined with talking to fellow hobbyist and taking a good look at how they have set-up their aquariums.  Forums and blogs can be very helpful for you fill in the gaps or help you decide between the many options and approaches you are going to become exposed to.   This also is one of the aspects of the hobby that many people enjoy almost as much as they enjoy their aquariums itself.
The below are some articles that I found interesting and I thought I would share them.
http://reefbuilders.com/2013/09/24/bali-aquarich-shows-picasso-galaxylike-tomato-clownfish-pending-permissions/
http://reefbuilders.com/2013/09/09/gobiodon-species-red-sea/
http://reefbuilders.com/2013/09/09/life-spectrum-max-feeding-finicky-fish/
---