Mushroom corals like an aquarium superman rhodactis mushroom are a great choice for a beginner coral. They are a soft coral and among the hardiest of corals commonly found in the hobby today which can tolerate less than idea water conditions for short periods of time.  Mushrooms can also be found in a wide verity of colors and sizes making then a very great choice to add some color to any reef aquarium.   They are also readily available in most local fish stores and on-line reef stores.
There will be a few more articles posted on other easier/simpler corals to care for, so stay tune, more to come.
The below will outline the requirements to keep mushroom corals healthy and thriving in your tank.

Some General Guidelines for Mushroom Coral Care
While mushroom corals can tolerate a wider range of water parameters, they will thrive in stable water conditions as detailed below:
Salinity: 1.025 to 1.027
Temp.: 77 to 79 degrees F.
Nitrates: below  5 ppm is best for long term health, however they tolerate much higher levels for a period of time
Phosphates: below 0.05 ppm
Water Flow:  Moderate to Low flow but not directed at the Mushrooms
Lighting: Moderate to Low
Alkalinity (dKH), Calcium, Magnesium, and pH, all should be balance with each other as described in the below link:
https://reefaquarium.com/2012/ph-in-marine-aquariums/
As mushroom do not have a calcified skeleton structure, they can be more tolerant of swings in the alkalinity, calcium, and magnesium when compared to other corals.  However, they will not be very tolerance to swings in PH, Temp, or salinity which is no different than any other coral or fish.
If your lighting level is too low for your mushroom, it will lose color and sometimes change it's shape a little as it tries to reach towards the light.  This can make it look a little like a funnel. When the lighting level is correct, the mushroom coral will be fully open and lay flat on the surface it's attached to.  If your lighting level is to high, the mushroom will stay somewhat retracted most of the time, and will usually start to lose its color giving it a "bleach" appearance starting around the edges.  As these corals contain zooxanthellae inside their body, they will be able to get most of their required nutrients through your tank lighting.  This is why it is important to have the correct levels of lighting in your tank and to watch for signs that your lighting levels may not be correct.  Mushrooms can also get nutrients from the water in the form of  microplankton and zooplankton and will benefit from the occasional spot feeding.  They  will do best when they get their needed nutrition from both the water and your tank lighting.
You can find many articles explaining the importance of dosing iodine supplements for accelerating the growth and improving the overall health of mushroom corals.  I personally have no experience dosing iodine supplements for my mushrooms and have found them to grow at a normal rate and remain healthy in my tank.  IMO, I have not needed to dose iodine in my tank to keep my mushrooms healthy.  However, I'm not stating that they could not benefit from it either. I suggest that dosing iodine be left to the more experienced hobbyist after they have had a chance to research all potential effects iodine dosing may have on the balance and stability of your water parameters.
As with most other corals, mushrooms have natural defense mechanisms to protect themselves. They have a chemical defense system based on stinging tentacle that will extend out from its cap.  This can be harmfully to certain types of other soft corals and SPS corals.  This makes it important to ensure you leave about 2 inches of space between your mushroom corals and other types of corals you may have in your tank.  Mushroom will do best when placed on your live rock in your tank.
Mushrooms can also be fragged with great success rates
Some of the Easier to Keep Mushroom Corals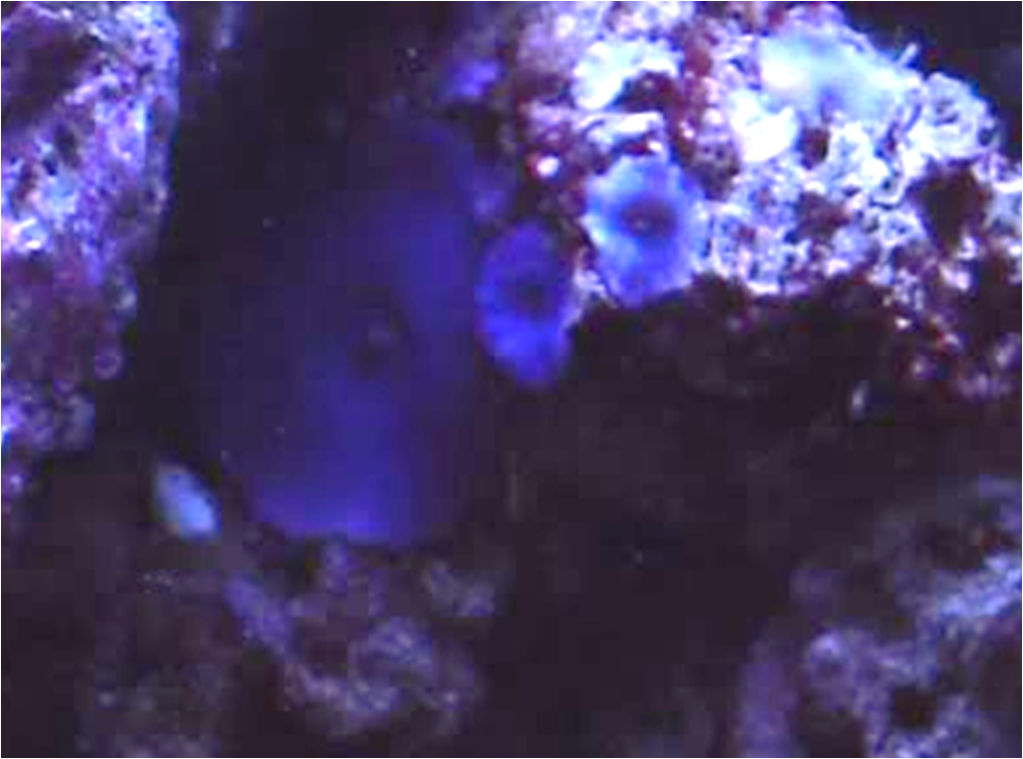 True Blue Mushrooms (Actinodiscus sp)
When under the ideal conditions, they will grow and multiple every fast through your tank.  They will be a solid shade of blue ranging in a very dark to a medium blue coloring. There will be no other features or other colors in the cap of the mushroom. They can grow up to 7 inches in size and will need about 2 inches of space between the mushroom and other types of corals.  Above is a picture of the true blue mushrooms currently in my 90 gallon reef tank.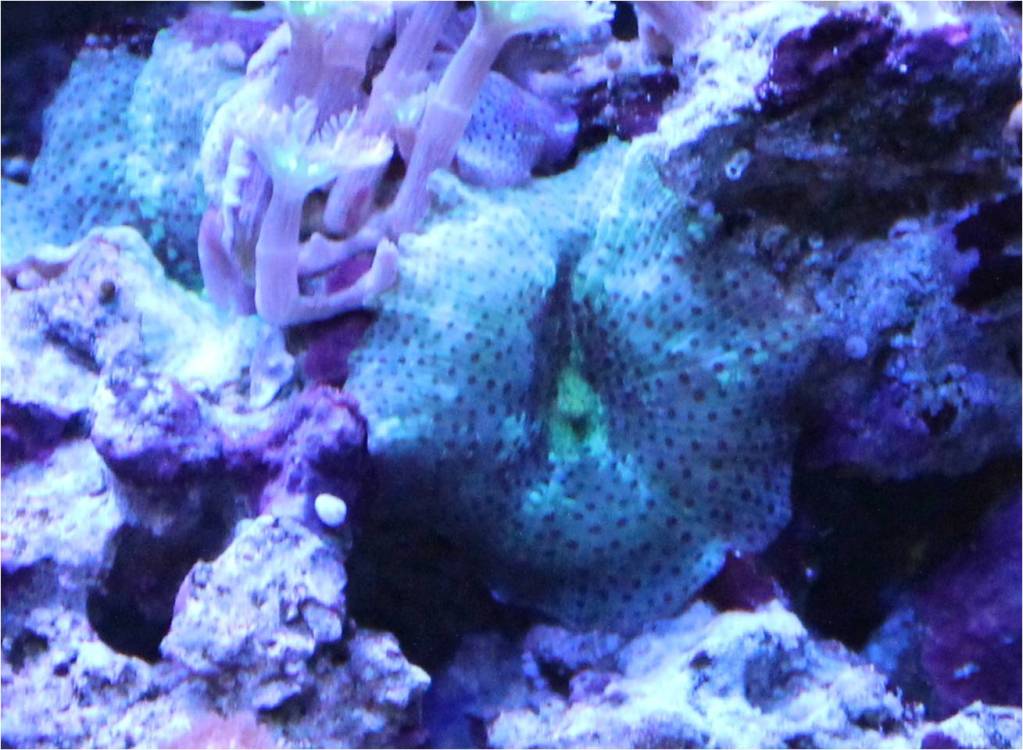 Green Stripe Mushroom(Actinodiscus sp)
These mushrooms can have variation in their appearance.  They can range in color from lighter shades of green to green with lighter shades of blue.  They can also have some stripe like features, spots, or a combination of these feature on the cap.  They are among the more evasive mushrooms you can have in your tank.  If their growth and expansion is not controlled, they will take over your whole tank if given enough time.  These two can also get up to 6 to 7 inches in size and will need about 2 inches of space between other corals.  These mushrooms can be commonly mistaken for watermelon mushrooms which can have the same green coloring but will have wider strips giving them a watermelon like appearance. The above picture is of three green stripe mushrooms in my 120 gallon reef tank.  They are continually growing and expanding into other areas of the tank as you can tell from the above picture.  I had to rehome these mushrooms  before they would damage the clove polyps in the picture.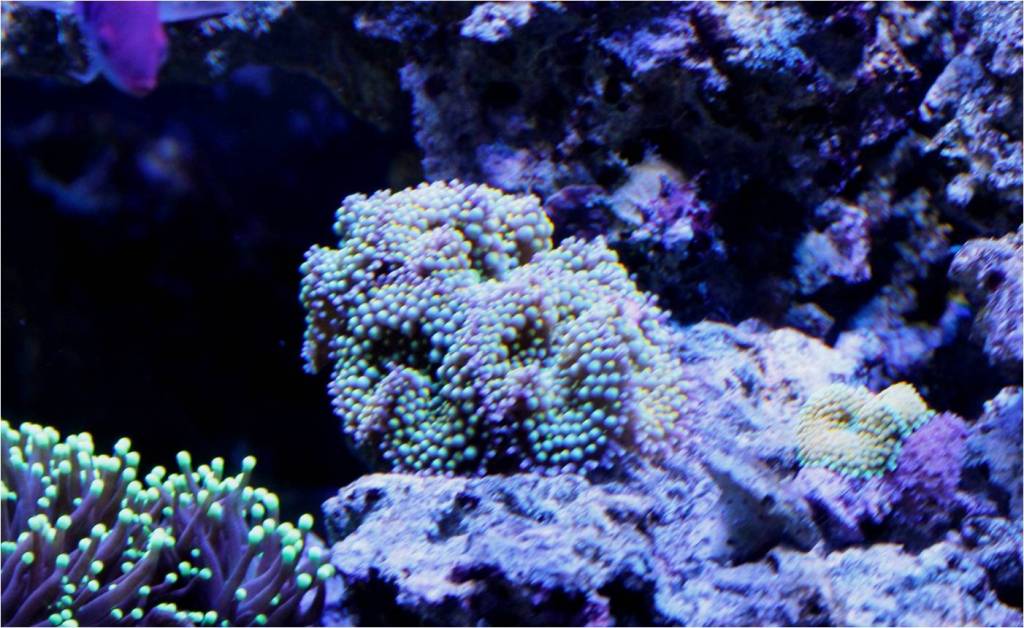 Ricordea Mushroom (Ricordea Florida)
These have also been commonly referred to as anemone mushrooms.  They can come in  a wide variety of bright colors from neon shades of green, to a bright and vibrant reds. It is also common to find some that have three different colors on them, one color around the edge of the cap, one color on the cap itself, and a third color in the center of the mushroom.  The surface of their cap looks like it is made up of small little balls giving them a very interesting structure.  They do best when attached to your rocks and can get up to 7 to 8 inches in size. Ricordeas will also need about 2 inches of space from other corals.  The above picture is the ricordea mushrooms in my 120 gallon reef tank just before I moved them to a different spot in the tank were they liked the lighting better.  This is one of my favorite mushrooms to keep.