The below Ocellaris ClownFish profile is based on what I have learned and observed.  They certainly are great little fish to keep and will add a lot of viewing pleasure to any aquarium.

Common Name: Ocellaris ClownFish, ClownFish
Scientific Name: Amphiprion Ocellaris
Reef Safe: Yes
Temperament: Peaceful
Care Level: Easy
Max Size: 3 to 4 inches (closer to 3 inches is more common)
Appearance:
In my opinion, Ocellaris Clownfish are among the most popular and the most recognized fish in the hobby.   The most common Ocellaris Clownfish will have an orange body with 3 white bands separated by a thin black boarder.  As these fish are very easy to breed in captivity, many companies have started breeding clownfish for sale in the hobby as well as developing selective breeding programs to produce a lot of different color and pattern variations.  There are now hundreds of different variations of Ocellaris Clown fish to pick from.  The below pictures are of a few types or variations of Ocellaris Clownfish that I have kept.
The below pictures are of a few of the Snowflake Ocellaris that I have kept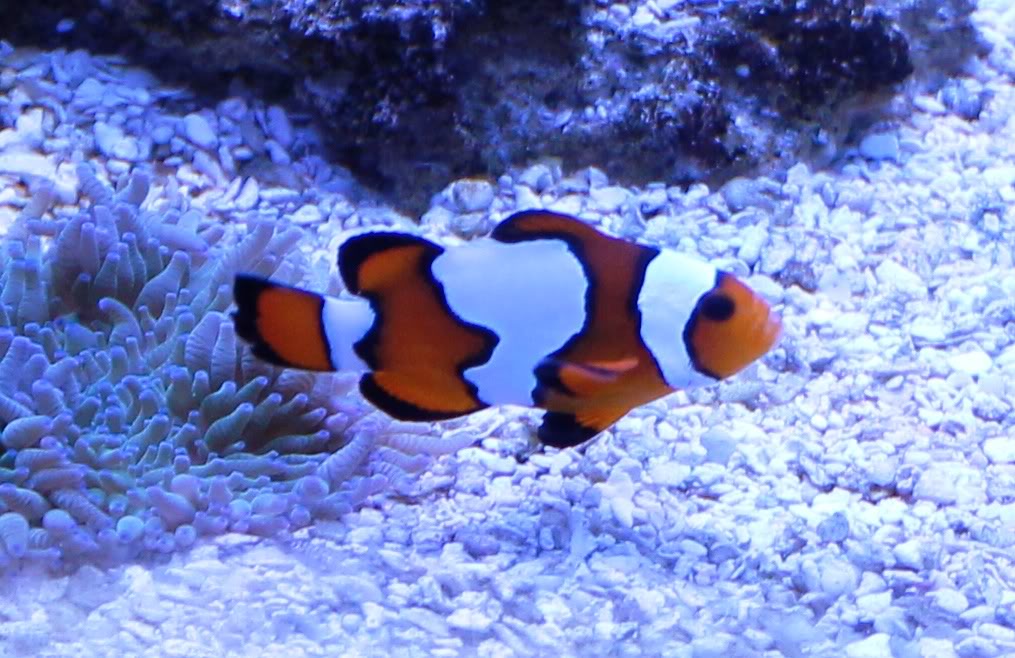 These pictures are of a mated pair of Black and White Ocellaris that I had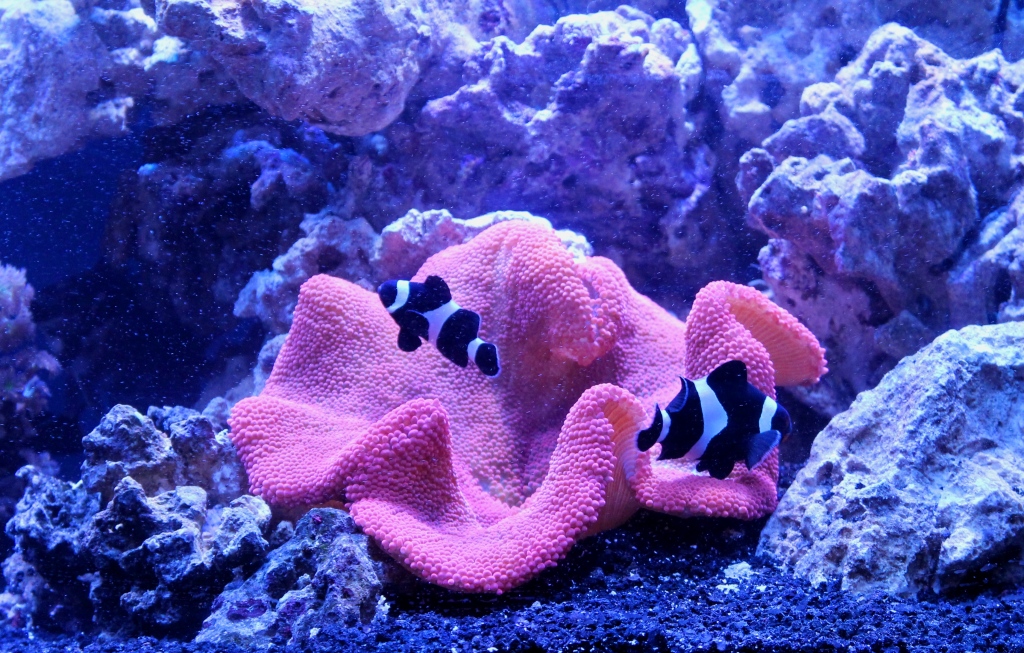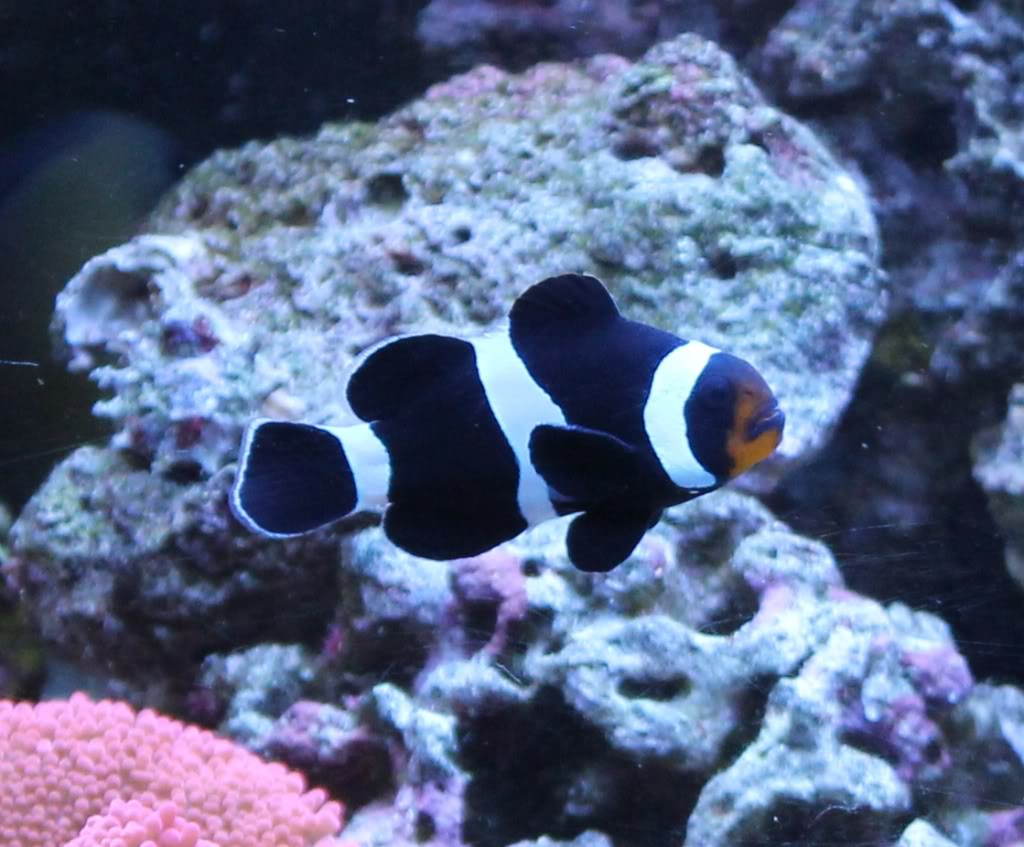 These clownfish are Domino Ocellaris which are a very new clown fish for me.  The below pic was taken in while the fish were still at the store before I took them home and placed them in my QT tank.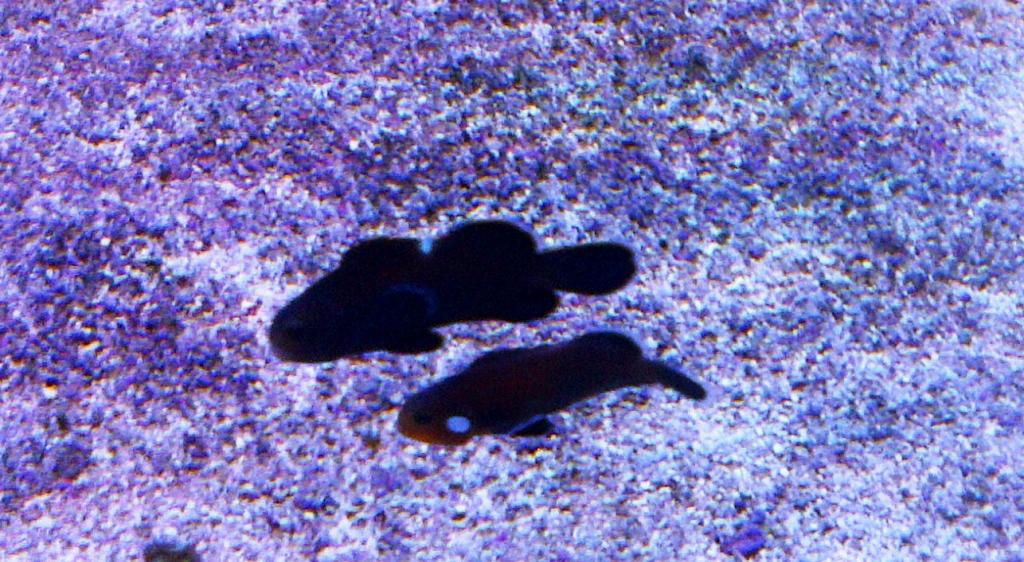 Temperament
Clownfish are very peace fish to have in an aquarium.  You can keep them with any other peaceful fish and with other clownfish.  However, if you have a mated pair that has claimed an area in your tank as their own (or is hosting in an anemone), they will most likely become territorial and chase away any other clownfish that may come near their spot.
Environment
I would suggest nothing less than a standard 29 gallon tank for these fish.  Many other people would argue that clownfish can live in a 20 gallon tank.  Based on my first hand experience with these fish, I would say that anything  less than a 29 gallon will not allow them to actual naturally as they can be very active little fish.
Do clown fish need an anemone?  In short, they don't need an anemone to host in order to happily live out their lives in your aquarium.   If you are keeping them in a tank without an anemone, then you should make sure the clownfish will have hiding spots to go to should they feel threaten.
Recommended water conditions:
I would refer you to the below article for the typical water conditions that clown fish will do best in:
https://www.reefaquarium.com/2013/the-basics-of-marine-aquarium-water-parameters/
Diet
As clownfish are omnivores, they will eat almost anything you give them.  A good variety of algae based as well as meat based foods would be best for them.  Marine based flakes or pellets, with algae based marine flake or pellets along with the occasional offering of mysis or brine shrimp would be very good example of foods offer your clown fish.
Breeding:
This is one of the easier marine fish to breed.  All clown fish are born as males. Once a mated pair forms, the dominate fish will become female and grow noticeably larger than the male.
As tank bred and raised clownfish are easy to come by in the hobby, I would always suggest purchasing tank bred fish over wild caught.  The tank bred will be more accustomed to life in a aquarium making them hardier as compared to wild caught fish, and you will be supporting a more environmentally sound practice.  The below pictures are of the first spawning of a pair of black Ocellaris ClownFish that I have kept.