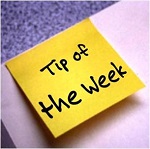 Tip of the Week # 9, Display Tank Black-outs
A while back I had started reading about fellow hobbyists completing a 3 day black out on their reef tanks every 3 months as a part of their routine maintenance.  Starting about 6 months ago, I started blacking out my reef tank for 3 days every two months.  There was no harmful effects to my SPS corals or my carpet anemone.
Some of the Identified Benefits Include:
-Slowing down algae growth
-Very effective to help get rid of cyano when used with other traditional control methods
-When done right, it can add a part of a natural cycle as seen in nature as it can simulate a bid storm without some of the negative effects
-In certain set-ups, it will help to slowly reduce the nitrates and phosphates as the inhabitants would experiences a slowed down metabolism allowing the nutrient removal processes in the aquarium to have a greater impact.
Some Tips for Best Results:
-Only turn off the tank lighting.  Allow the ambient room light to hit the tank so you can feed your fish
-Keep all other equipment running on the set-up.
-Feed you fish about ¼ to 1/3 of the normal amount during the black-out period.
-On smaller tanks, carefully watch your pH levels as the level could drop very low in smaller set-up
-The approach works very well on set-up with refugium or algae scrubbers if you leave the lighting schedule the same for the refugium and algae scrubber
-Complete a larger than normal water change after the blackout due to any algae die-off can release extra nutrients into the water.
-Return to your normal lighting level slowly as to not shock any of your corals and/or anemones
-BTAs can start to move during a black-out period
-This will only temporarily solve algae problems.  Without removing the cause(s) of the algae, it will come back in time.
Some other references for routine aquarium maintenance:
https://www.reefaquarium.com/2012/marine-aquarium-maintenance/
http://www.tfhmagazine.com/aquarium-basics/columns/a-marine-aquarium-maintenance-checklist-the-salt-creep.htm
---