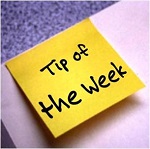 Tip of the Week # 5 – Fish Compatibility
Sometimes you can thoroughly complete your research to ensure the best possibly compatibility between all of your fish, but you sometimes will just end up with all kinds of problems.  The reason for this is that fish can also have their very own unique and individual personalities.  And just like people, you can find miserable , grumpy, and mean fish that are completely different the average fish of the exact same species.  Although I would think this is a very small percentage, it is still a risk.
This is why I always recommend that you keep a very close eye on your aquarium every time you add a new fish to the set-up.  Even when you quarantine a new fish for 4 or 5 weeks, you may still not know with 100% certainty how well this will work out until you add them.
The below link and also offer a few guidelines to help you think through determining appropriate stocking for your aquarium
https://www.reefaquarium.com/2013/responsible-fish-keeping/
The below link can also offer you some good ideas about stocking butterflys in reef set-ups
http://reefbuilders.com/2013/10/29/keeping-butterflyfish-reefs-avoid/
---