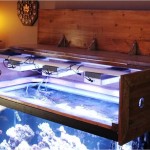 This article was written by myself and Cliff. The first part was written by me (Dave66), and Cliff gives an overview of LED (Light Emitting Diode) lighting.
—-
Perhaps the most important and vital piece of equipment one can buy for their reef aquarium is lighting.
Fully 95 percent of corals available in shops and online are photosynthetic. That is, they have photosynthetic bacteria in their tissues (zooxanthellae). The bacteria 'feed' on the light, and the sugars they produce as waste feeds the coral.
On the tropical reef it's the sun that powers the photosynthesis of zooxanthellae. In the aquarium, it is the responsibility of the keeper to simulate the sun in their aquariums. Lighting is one of the major costs in starting a reef tank. Continue reading →